Look at all these lovelies. I could call any of them home.
First picture, I love the colour combo, white & bright with the unexpected grey, I love the island bench because its an elegant  piece of furniture & shelves, well yes I have a thing a big thing for shelves. The light fitting is great too. Wait till you see my light shades, I have a fetish /  addiction.
source
Then I love this kitchen because, well same reasons as above really. Check out the lights & the island bench, I also love light timber floors, I'd have them through out the whole house. I grew up in Melbourne where houses have pine floors, the light just reflects off the pine &  adds a glow, lovely. In WA we have beautiful jarah floor boards & they are really beautiful, but my kitchen is dark & a dark floor just sucks the light out of a room.  The best part of this kitchen are the 2 fridges so coooooool.
source
Yes, open shelving is a passion. I'm not into fitted kitchens at all, I love odd & miss matched things.  Plus we seem to pay an extraordinary high price in Australia for fitted cupboards that are basically  chip board  crap. Sorry just what I think. I love the subtle colours, something I'm not good at, if I have a choice of colour I choose the brightest. The only white china I own is unusual in shape, really. I love the green glass.
source
My other passion is glass jars lucky because they go with open shelving. Plastic ware & open shelving just not a happening thing. This converted wardrobe is fantastic.
source
Last photo for today is the one most like me. Lovely bright colour mix & match china, perfect.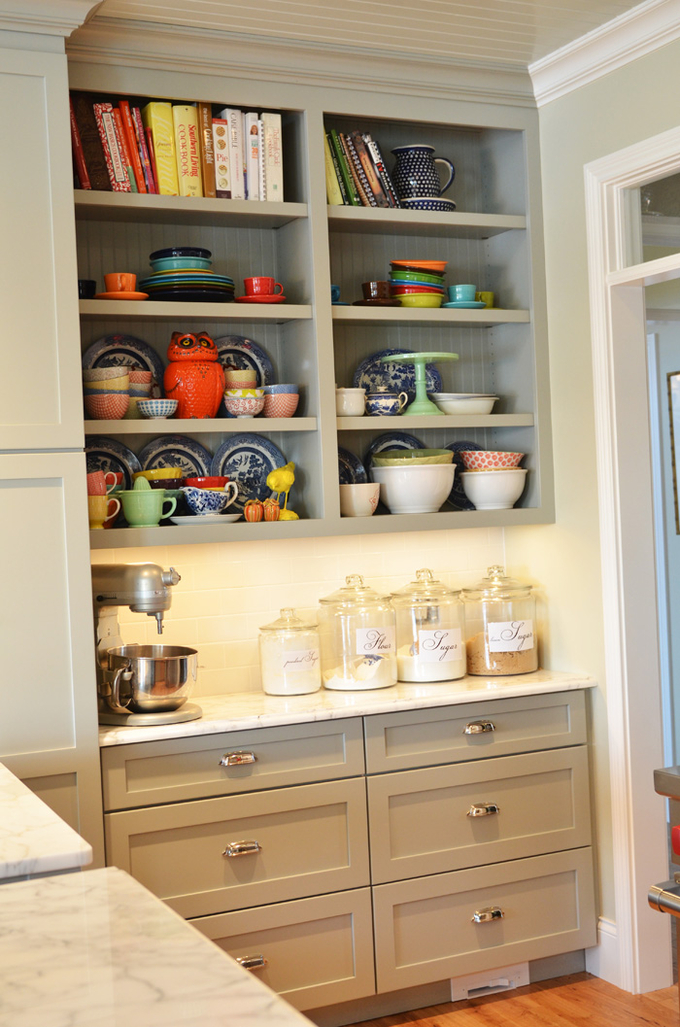 source
Wish Mr D'Arcy luck in building my a new kitchen.
Jane oxo.